Asymmetric gennaker
Genaker to jedna z asymetrycznych odmian spinakera. Wynika to z faktu, że jego lik tylny jest krótszy niż lik przedni - w przeciwieństwie do wyżej wspomnianego spinakera, gdzie linia symetrii przechodzącej przez róg fałowy i połowę długości liku dolnego żagla wyznacza jego symetrię. Żagiel typu genaker jest idealny do kursów baksztagowych, mocowany na stałe w rogu halsowym do kaczego dziobu bądz wytyku.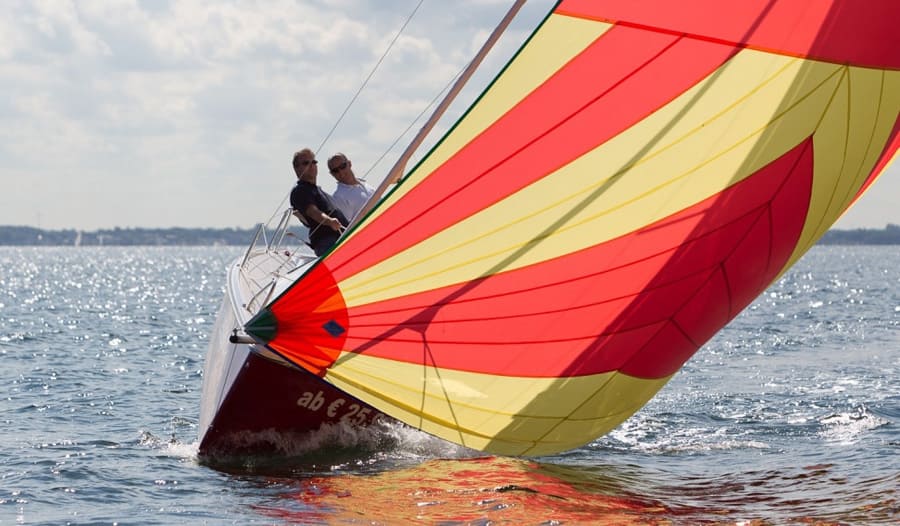 Lista opcji standardowych oraz dodatkowych:
STANDARD:
- krój horyzontalny lub radialny
- trzy kolory
- remizki lub kółka stalowe z taśmami w narożnikach
- oznaczenia narożników
- oznaczenia lików
- worek na żagiel
DODATKI:
- dodatkowy kolor
- trymlinka w liku tylnym
- trymlinka w liku dolnym
- trymlinka w liku przednim
- trymlinki z dynemy
- dodatkowo wzmocnione liki
- numery
Poniżej znajdziesz wszystkie informacje jakich potrzbujemy. Szczegóły dotyczące wykończeń, cen oraz terminów realizacji uzyskasz wysyłając do nas zapytanie przez poniższy link, bądź bezpośrednio na email: biuro@apollosails.com

Arkusze pomiarowe możesz wypełniać na dwa sposoby:
1. Wydrukować, zabrać na jacht i wypełnić ręcznie.
2. Wypełnić bez potrzeby drukowania używając dowolnego narzędzia do edycji formatu pdf.
Zobacz jak wygląda komputerowy model takielunku